Liveon
AED$330
LIVEON helps you fight against ageing through DNA revival and cell renewal properties. Formulated with powerful patented antioxidant ingredients, it is the biggest leap in the studies of anti-ageing, backed by 13 years of research & development.
Quantity
Price
1

AED$

330
2

AED$

550
3

AED$

750
Description
LIVEON is a ready-to-drink botanical beverage rich in patented antioxidants to help fight against ageing with its DNA revival and cell renewal properties.
LIVEON is formulated with powerful antioxidants from 4 different countries. These key ingredients are world-patented and all-natural.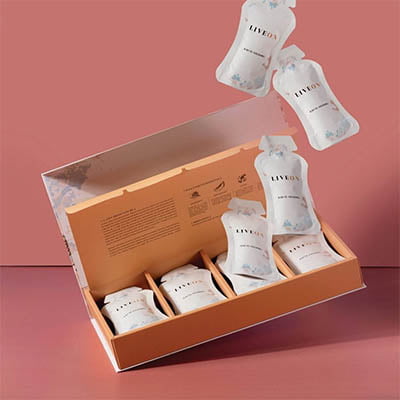 Ageing is not always about the number. It begins with cellular damage.
Glycation of DNA cells leads to premature ageing. When the sugar we consume gets bound to the protein in our body, it leads to formation of advanced glycation end products (AGEs). AGEs cause damage to our DNA cells; which is the root source of ageing. Early symptoms of ageing:
Liveon helps you rediscover YOUTH & VITALITY through DNA revival.
Rich in antioxidants, your cells are replenished with nutrition & energy to combat signs of ageing.
LIVEON's wide-ranging benefits:

Strengthens the immune system
Through anti-glycation & anti-oxidation properties

Boosts & restores energy
Rejuvenates the body mechanism, and provides energy for cell regeneration

Stimulates brain cells
Stimulates & reactivates the quiescent cells in our body & brain to delay the ageing process. Also helps to enhance memory and ability to focus

Improves sleep quality
Relieves stress & manages fatigue to enhance production of melatonin, which improves sleep quality

Optimises cardiovascular (heart) health
Reduce heart disease risk factors

Maintain healthy and bouncy blood vessel
Revitalises the hardened cardiovascular walls due to glycation

Decreases appearance of wrinkles & dark spots
Maintains skin structure and manages the formation of wrinkles, fine lines & age spots through anti-glycation & anti-oxidation properties

Improves overall mobility
Aids in pain relief (ie. arthritis) and improves overall mobility

Manage uric acid production
Minimize production of uric acid in the body

Accelerates healing of wounds
Particularly for recovering hospital patients
Positive Effects of LIVEON:
Higher metabolism

Enhanced body mechanism

Improved sleep quality

All-round good energy & vitality
Improved skin elasticity

Better complexion & appearance

Minimised wrinkles & fine lines

Lesser dark spots
KEY INGREDIENTS
LIVEON is formulated with powerful antioxidants from 4 different countries. These key ingredients are world-patented and all-natural.

Enzogenol®
PINE BARK EXTRACT
This powerful antioxidant is extracted from the bark of Pinus Radiata in New Zealand

Produced through pure water extraction technology, which is internationally patented

Contains various types of flavonoids, including procyanidins, taxanes, catechins, etc.

Increases lifespan through healthier DNA

Improves cognitive performance

Enhances & protects skin 
SOD Extramel®
SUPEROXIDE DISMUTASE
This powerful antioxidant is 100% natural, using non-GMO cantaloup melon

5-10x times more concentrated than the regular melon

Produced through the patented extraction & microencapsulation production technology in France

Delays ageing process

Reverses signs of ageing

Provides a complete defense system for the body

Puredia Seaberry®
SEA BUCKTHORN
Known as the "Holy Fruit" rich in potent antioxidants, Omega 3, 6, 7, 9, vitamins & minerals

Grows at 4,500 meters above sea level in Tibet

Nutrients are extracted through supercritical carbon dioxide extraction technology

Reverses signs of ageing

Boosts immunity

Improves cardiovascular health

SIRTMAX
BLACK TURMERIC EXTRACT
A natural antioxidant that neutralises free radicals and slows down signs of ageing

Patented & produced in Japan with 15x stronger antioxidant effect than resveratrol, and 3x stronger antioxidant effect than the common black turmeric

Extends healthy lifespan & longevity

Enhances cardiovascular & metabolic health

Delays development of age-related illnesses

Improves carbohydrate metabolism & minimizes AGEs
SUPPORTING ANTIOXIDANT INGREDIENTS

ALOE EXTRACT
Manages harmful effects of oxidative stress.

GRAPE SEED EXTRACT
Slows down early signs of ageing.

ACAI BERRY EXTRACT
Of highest ORAC value, rich in polyphenols, super anti-oxidant effect helps fight against aging

VITAMIN C
Strengthens immune system & wards off sickness. Promotes growth of collagen.

KNOTWEED
Effectively inhibits synthesis of AGEs. Corrects abnormal cell metabolism & suppresses oxidative damage.

GREEN TEA EXTRACT
Protects brain cells from oxidative stress.
The health conscious

The beauty conscious

The elderly

Those who live hectic lifestyles

Those with low sleep quality / insufficient sleep

Those whom are regularly exposed to direct sunlight
Ready-to-drink botanical beverage.
Available in mixed fruit flavours – kiwi, mangosteen, mulberry.
Suggested Use: Take 1-2 sachet a day 30 minutes before meal.
Consult a medical doctor before taking this or any other nutritional supplement if you are pregnant, nursing, have or suspect a medical condition, or are taking any medications.
Store in a cool, dry place. KEEP OUT OF REACH OF CHILDREN.
Serving Size
1 Sachet
Serving per Box 16 sachets
Ingredients
Enzogenol pine bark extract
Sirtmax, Black Turmeric extract
SOD B Extramel, Puredia Seaberry omega powder
Giant knotweed (resveratrol)
grape seed extract
green tea extract
vitamin C
curcumin extract
aloe vera extract
acai berry extract.
LIVEON FREQUENTLY ASKED QUESTIONS (FAQ)