Imuglo
SGD$110
Imuglo botanical beverage helps you fight against threats by strengthening your immune system.
Packed with patented ingredients & superfood goodness, your immunity will be stronger than ever. You may even notice a difference in your digestion!
Quantity
Price
1

SGD$

110
2

SGD$

199
3

SGD$

259
4

SGD$

339
5

SGD$

419
6

SGD$

499
Description
Our immune system is the defense system in our body to fight against threats such as viruses, bacteria and parasites. However, an imbalanced immune system is common in adults.
Overreact to allergens ie. food, pollen, medication or insect stings

Leads to allergies such as sinus, asthma, hives, dermatitis & eczema
It is an immunodeficiency, either inherited, or triggered by medical treatment

Vulnerable to infections
Common factors affecting immunity:
Imbalanced Diet (affects digestion)

Late Nights (affects liver)

Water Pollution (affects kidneys)

Air Pollution (affects respiratory health)
Signs & symptoms of low immunity:
Falling ill frequently

Digestive issues (ie. loss of appetite, diarrhea)

Malnutrition

Skin infections

Slow recovery of wounds & infections

Pneumonia, meningitis, bronchitis, etc.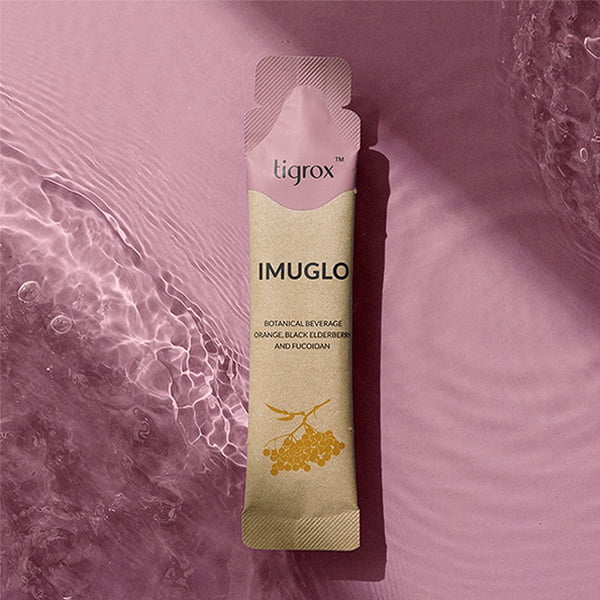 Imuglo is a ready-to-drink botanical beverage gives you all-round protection and powers up your immunity.
The potent combination of Elderberry Extract & Mukabu Seaweed builds that protective shield around you, keeping you safe from harm.
6 MAJOR FUNCTIONS OF IMUGLO
Regulate and strengthen the immune system
Supports digestion & intestinal health
Manages flu-like symptoms
Improves upper respiratory health
Manages risk of infections & inflammation
European Black Elderberry Extract
Processed through patented membrane filtration technology by Iprona
Contains 2x natural antioxidants than other fruits
Anti-viral & anti-bacterial properties, which help improve symptoms of sinusitis & bronchitis

Manages upper respiratory symptoms caused by bacteria or virus infections, and decreases flu-like symptoms within 24 hours

Supports immune system with increase of white blood cells
MAITAKE MUSHROOM MYCELIUM EXTRACT
Immunomodulation – two-way regulation to manage immune suppression or overactivity, assists the body in fighting harm

Anti-allergic properties – improves resistance against allergies by increasing the number of immune cells in the blood
Maritech&reg Organic Fucoidan
Extracted from Mekabu Seaweed, it is a common natural immune modulator
Special aqueous extraction technology is used to ensure raw ingredient does not contain heavy metals, saline, odour & radiation
Immunomodulation – significantly increase immune cellular levels within 3 days, stimulating immune function and boosting antibody production

Anti-bacterial properties – effectively reduces adhesion of gastric & intestinal infection caused by bacteria after consumption

Anti-inflammation properties – manages chronic & systemic inflammations, modulates allergies caused by overactive immunity
VITAMIN C LIPID METABOLITES
Contains SuperSorb® enhanced delivery system – quickly absorbed & easily retained
Improves immune system

Strengthens skin's defense system
SUPPORTING INGREDIENT: MIXED FRUIT JUICE
A mix of orange juice, cucumber juice & lemon powder

Orange juice: rich in Vitamin C to help increase production of white blood cells

Cucumber juice: rich in Vitamin A to help boost immunity and promote healthy respiratory, urinary & gastrointestinal tracts

Lemon powder: improves gut & digestive health, fights against infections and the common cold
IMUGLO is suitable for those who:
Have a weak immune system
Fall sick easily & frequently
Experience respiratory issues
Have generally unhealthy lifestyles
Are in the medical profession
Are elderly & middle-aged
Suggested Use: Take 1 sachet daily. Consume all after opening the sachet.

Consult a medical doctor before taking this or any other nutritional supplement if you have or suspect a medical condition, or are taking any medications. 
Store in a cool, dry place. KEEP OUT OF REACH OF CHILDREN.
Ready-to-drink botanical beverage.
Serving per Box  20 sachets
Ingredients
Each sachet contains:
Orange Juice Powder
ElderCraft® European Black Elderberry Extract
Cucumber Extract Powder
PUREWAY-C™ Ascorbic Acid
Maitake Mushroom Mycelium Extract
Maritech® Organic Mekabu Fucoidan Seaweed Extract
IMUGLO FREQUENTLY ASKED QUESTIONS