Kidaone Elderberry Colostrum
SGD$85
KidAone Elderberry Colostrum comprises SUPERFOODS that build up your child's immune system from the inside out, keeping them healthy & protected at all times.

Quantity
Price
1

SGD$

85
2

SGD$

145
3

SGD$

199
4

SGD$

259
5

SGD$

319
6

SGD$

369
Description
Does your child have a weak immune system?
Here are the signs & symptoms:
Falls sick frequently

Gets tired easily

Cries without reason

Feels sleepy all the time (affecting their learning abilities)
Weak immune system in children is caused by:
Poor diet

Unhygienic play (ie. toys)

Outdoor exposure to germs

Lack of sleep
Formulated for kids, KidAone is an immune system builder that keeps children in top- notch health – and keeps parents relieved.
Key benefits of Kidaone Elderberry Colostrum:

Enhance kids' immunity
(esp. for those going to school & daycare centres)
Alleviate respiratory symptoms
Boost skin's defense system
Enrich gut health & relieves constipation
Anti-bacterial & anti-viral properties
Colostrum is a nutrient-rich milky fluid produced by female mammals. It is a primary immune & growth booster for babies, keeping them healthy and free of infections.
3 Major Benefits of Colostrum
Fights against infant anemia
Lactoferrin is a protein that contributes towards haemoglobin synthesis, keeping infants safe from anemia
Builds up immunity in premature babies
Colostrum contains immune cells that help strengthen the immune system of premature babies
Promotes gut health
Lysozyme is an enzyme that wards off bacterial & viral infections, normalizes intestinal flora and promotes proliferation of bifidobacterial in children's gut
PanTheryx's ColostrumOne TM is the leading patented colostrum worldwide.
Among 20 tested colostrum products in the market, ColostrumOne TM contains the highest content of bioactive properties.
High bioactive properties

Contains bovine colostrum, similar to human colostrum

High quality dairies

Advanced manufacturing & processing technology

Stringent quality testing & assurance
ColostrumOne TM comprises:
Main antibody fighting against pathogens
Functions as a major antibacterial enzyme
Small peptide molecule that regulates immune response
Enzyme that supports immune function
Multifunctional protein with anti-viral & anti-microbial activities
The natural superfood for humans, effective against virus & bacteria-induced respiratory tract infections.
KidAone contains Eldercraft, a high-quality anthocyanin-standardised elderberry extract manufactured from Australian black elderberries (Sambucus nigra, L.) using a proprietary membrane filtration technology.
Antioxidants than other fruits
Anthocyanins than blueberries
Anthocyanins than cranberries
Anti-bacterial & anti-viral properties
Alleviates upper respiratory symptoms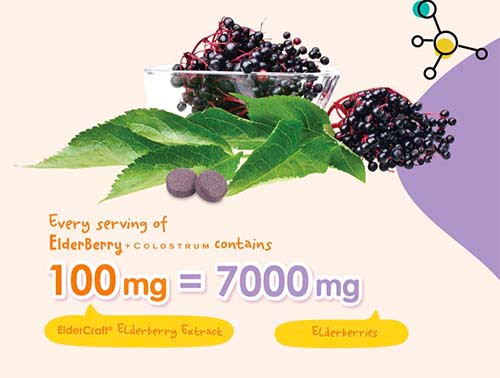 Supplementary Ingredient:
Vitamin C
Essential to boost children's immune system and protect them against viral infections & illnesses.
Pureway-C is a form of Vitamin C that contains Vitamin C lipid metabolites
Higher free radical scavenging
SuperSorb for better absorption & retention
KidAone is suitable for kids who:
Do not sufficient nutrients from their diet
Suggested Use: Take 2 chewable tablets daily.
Consult a medical doctor before taking this or any other nutritional supplement if you have or suspect a medical condition, or are taking any medications. 
This product is only suitable for children above 2 years old with chewing ability.

Chew before swallow, children should only consume the product under parents' guidance.

Store in a cool, dry place.
Chewable tablets format.

Available in cocoa+berry flavour.
Serving per Bottle  60 tablets
Ingredients
Each tablet contains:
ElderCraft® European Black Elderberry Extract 100mg
PUREWAY-C™ Ascorbic Acid 50mg
Colostrum 300mg with 25% IgG
KIDAONE ELDERBERRY FREQUENTLY ASKED QUESTIONS